00 Gauge                     BR (1990)/Privatisation (2005)            As featured in British Railway Modelling May 18 
As the name suggests Devonport Road is based in the suburbs of Plymouth. The station was the junction of the Southern Railway withered arm into Plymouth and the Great Western branch to Cattewater, the two lines running parallel for a distance to the east of the station until the Southern diverged into Friary and the Great Western continued to Laira Junction.


By the late 80's/early 90's and the GW branch is now freight only serving a number of freight terminals in the Cattewater area including fuel oils, bitumen, industrial gases, chemicals, coal, scrap and metals. The GW platforms have now been converted into a parcels station for handling sorted and high security mail and parcels. The short loops you see on the layout (based on those at Pylle Hill in Bristol) are used to quickly marshal parcel vans after loading and unloading for tripping around to North Road station. The sidings to the front of the layout are for the civil engineers and feature all manner of engineering and departmental wagons.

The SR lines are now cut back to Gunnislake, but trains to the MOD armaments depot at Ernesettle pass through the station, as do china clay trains to the plant just south of Bere Ferrers. A strong preservation movement has also set up at the junction station of Bere Alston. Trains of preserved stock are sometimes seen passing Devonport Road.
Plymouth is famous for its naval dockyards at Devonport, home to many of the Royal Navy's surface and subsurface vessels. The "secret" trains to support the submarine fleet are regularly seen at Devonport Road, along with other general stores traffic. The dockyards have however branched out and also use their facilities to repair, repaint and modification of a number of railway vehicles including coaches and HST power cars. These vehicles add to the mix of traffic passing through.
The layout is self-standing and occupies a footprint of 4,000mm by 1,800mm (14feet by 6 feet) including operator area and access and stock storage area, as defined by the following plan :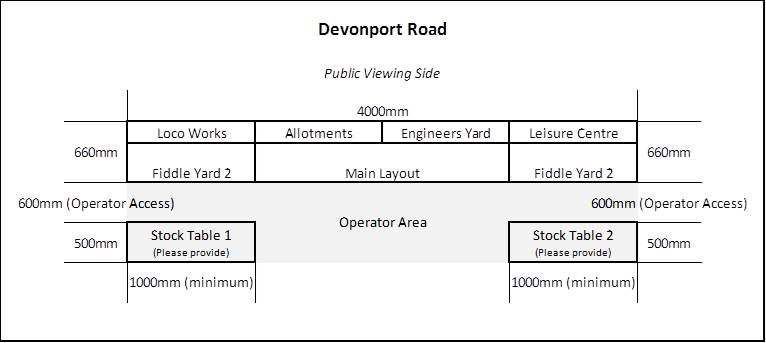 The layout will operate in one of two modes :
Late 80's/early 90's DC   
Mid 2000's DC - future development                                  
In June 2017, Devonport Road became 'an award winning layout', winning the Hills Cup for Best Layout at the Shepton Mallet show!

Some video of the layout in operation at Stafford show can be seen over the first 2:15 minutes of this video
Devonport Road at Warley Show Nov 2018