Cornish Riviera Trains, Plymouth Depot
00 Gauge                     Cornish Riviera Trains circa 2005-2010
This micro layout can form part of Devonport Road when in operation at home in DCC sound mode (2005-2010), filling a gap between the end of the fiddle yard and the wall. However, it can also be used as a stand alone micro layout at exhibitions, accompanying a demonstration, giving something for people to watch whilst talking about anything modelling.
The premise for the depot is that Cornish Riviera Trains has established a small depot in Plymouth to service both locos and rolling stock. This shed area is just a small part of the larger depot and sees both locos and coaching stock of various sorts being moved by shunter or under their own power.
It shares a fiddle yard (one of our 'demo boxes') as Cattewater, Ashton Meadows and Inspired by Alderney. Indeed, it shares more than a fiddle yard with the latter, as both layouts use the same board and trackwork but can be transformed through the use of interchangable scenery, vehicles and people. However, instead of garden centre and airfield, this features parts of inner city Plymouth which are not quire so well tended or cared for!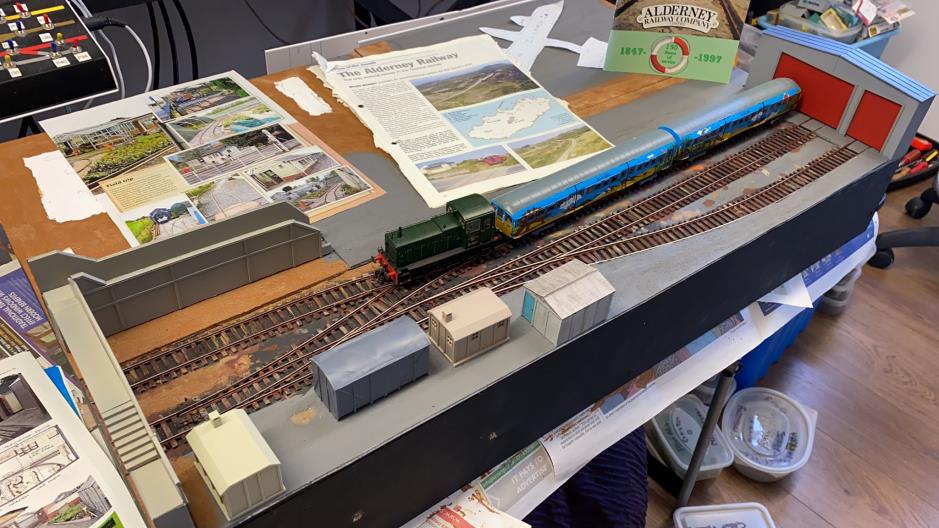 The photo above shows the layout in 'Inspired by Alderney' guise but shows the trackplan that will be in use.
More details as construction continues!